November has arrived, and it comes bearing a wide range of captivating shows and telemovies that will have you hooked to your TV screen. Whether you crave intense telemovies or hilarious reality-variety shows, this month's lineup has something to delight every viewer.
1. 3D Jobs
Join us in this heartwarming series as we celebrate the unsung heroes in our communities. These resilient individuals take on the challenging, gritty, and sometimes perilous roles that form the backbone of our cities and towns.
Each episode offers a glimpse into the everyday experiences of these blue-collar workers, revealing the inspirational stories that define their lives beyond their jobs. Tune in to catch it on TVS Channel 122, MYTV, Unifi TV, and Astro every Tuesday, commencing November 7th, 2023, at 9:15 PM.
2. Running Man
For a dose of action, comedy, wit, and thrilling challenges, "Running Man" is the show to tune into. I'm sure that most, if not all, of you are familiar with the endless laughter "Running Man" has brought us over the past 10 years and more. Join the cast as they embark on daring missions in various locations, relying on their wit and skills to outsmart one another.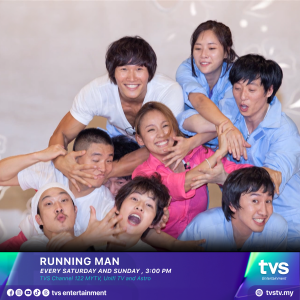 Whether they choose to work as a team or engage in friendly betrayals, the show promises a rollercoaster of laughter. Don't miss out on the fun every Saturday and Sunday, starting from November 11th, 2023, at 3 PM.
3. Suffice
An emotional journey awaits in this local original telemovie. Follow the touching story of Mellisa, a talented singer-songwriter from Sibu, as she navigates the path of her dreams and love.
An unexpected opportunity presents her with a heart-wrenching dilemma: should she choose her lifelong dream or the love of her life? Keep your tissues handy and tune in on November 19th, 2023, at 9:15 PM.
4. Seven Something
Hailing from Thailand, "Seven Something" features the country's top talents alongside Nichkhun, the Asian Idol from 2PM. This enchanting drama unfolds love stories spanning three generations at ages 14, 21, and 42.
Each generation explores the influence of digital privacy, fleeting fame, and personal transformation on their romantic fates. This drama is bound to strike a chord with anyone who has experienced love. Save the date for November 18th, 2023, at 8:45 PM.
5. Antara Kita
Brace yourself for an enthralling adventure as Adam, recently released from prison due to drug-related offenses, reunites with old friends. A fiery dispute quickly evolves into a brawl, but Annie, Khai's wife, and other individuals intervene, drastically changing the course of events.
With the team joining forces to pursue justice and initiate a pursuit of a formidable foe, they will unveil astonishing revelations that will keep you at the edge of your seat on Sunday, November 26th, at 9:15 PM.
Don't miss out on the fantastic entertainment that November has in store for you. Tune in to TVS Channel 122, MYTV, Unifi TV, and Astro to experience all the thrills, drama, and excitement. Your beloved shows are just a remote click away!